04 Jul

A new method to optimise the dose of antibiotics in critically ill patients

<![CDATA[
⇒ The method has been developed thanks to the collaboration between researchers from the Hospital Pharmacy and Anaesthesiology, Reanimation and Pain Therapeutics services of the Hospital Clínico Universitario de Valencia.
⇒ The validation of the method has been published in the scientific journal Bioanalysis.
Researchers have validated the quantification of plasma levels of a new antibiotic formed by the association of a cephalosporin (cephtholozane) and a beta-lactam inhibitor (tazobactam). High Performance Liquid Chromatography (HPLC) was used for this purpose. A fast, simple and stable method has been successfully developed and validated in accordance with the guidelines of the European Medicines Agency. The total quantification time for plasma levels does not exceed 10 minutes per sample, a faster method than the previously developed 25-26 minute method. Another important aspect to keep in mind is that the calibration was evaluated and used in all therapeutic intervals for patients treated with standard doses. Stability studies of both components of this new antibiotic, at different stages of the analytical process, revealed that neither cephtholozene nor tazobactam are stable in the plasma for prolonged periods. This consideration should be taken into account when reproducing the method to obtain reliable results.
Future outlook
Due to the high variability in the pharmacokinetics of critically ill patients, the correct dosage of antibiotics is complicated. Therefore, in this type of patient it would be advisable to monitor the plasma levels of these drugs in order to make antimicrobial therapy safer and more effective and to prevent or minimize the appearance of multi-resistant microorganisms. Therefore, the availability of this new analytical method, simple, fast and effective, is a valuable tool especially for the critical patient, in order to optimise the dosage, as indicated by the authors in the study.
Complementary information
Antibiotics are commonly prescribed in the critical care setting for the treatment of severe infections. Due to the high pharmacokinetic variability, there is a significant lack of information for the dosage of new antibiotics in critically ill patients. In addition, recent studies have shown that more than one-third of patients may have antibiotic concentrations outside the therapeutic range. The pharmacokinetics of antimicrobials in critical patients with extracorporeal devices constitutes an open line of research at INCLIVA over the last few years. The Anesthesiology and Reanimation Service, the Hospital Pharmacy Service and the Microbiology Service of the Hospital Clínico Universitario de Valencia have been working together. [caption id="attachment_3999" align="alignleft" width="300"]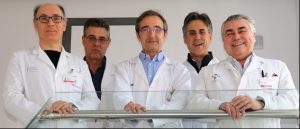 Grupo de investigadores de la farmacocinética de los antimicrobianos en pacientes críticos del Instituto de Investigación Sanitaria INCLIVA-Hospital Clínico Universitario de Valencia.
[/caption]
Access to the scientific paper:
Ezquer-Garin C; Ferriols-Lisart R; Alós-Almiñana M; Aguilar-Aguilar G; Belda-Nacher JF; Carbonell JA. Validated HPLC-UV detection method for the simultaneous determination of ceftolozane and tazobactam in human plasma.
Bioanalysis, 2018
.]]>